PMP stands for Project Management Professional (PMP). PMP Certification is offered by the Project Management Institute(PMI) and is an industry-recognized credential for project managers. PMP certification demonstrates the project manager's experience, knowledge, skills and competencies required to lead and direct projects.
Some of Globally Recognized Certifications for Project managers are below
Project Management Professional (PMP)®
Program Management Professional (PgMP®)
PMI Portfolio Management Professional (PfMP)®
Certified Associate in Project Management (CAPM)®
PMI Scheduling Professional (PMI-SP)®
PMI Risk Management Professional (PMI-RMP)®
PMI Agile Certified Practitioner (PMI-ACP)®
PMI Professional in Business Analysis (PMI-PBA)®
The Projects IN Controlled Environments (PRINCE2)Certification
who should apply for PMP certifications ?
An experienced project manager who meets the following requirements:
Perform their duties under general supervision and are responsible for all aspects of the project for the life of the project
Lead and direct cross-functional teams to deliver projects within the constraints of schedule, budget and resources
Demonstrate sufficient knowledge and experience to appropriately apply a methodology to projects that have reasonably well-defined project requirements and deliverables
There are few prerequisites for you to apply for PMP certification. These are related to the qualification, experience hours in project management & learning or education hours on Project management topics.
Project management certifications requirements/PMP certification requirements
Secondary degree (high school diploma, or the global equivalent)
7,500 hours leading and directing projects
35 hours of project management education
Or
Four-year degree
4,500 hours leading and directing projects
35 hours of project management education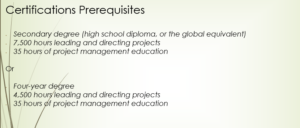 The PMP certification exam has 200 multiple-choice questions, and you have four hours to complete it.
Once you are certified in PMP, you need to maintain your PMP certification by earning 60 PDU's ( Professional development units) in every three years.
The cost for certification is US$555.00 for non-member & US$405.00 for PMI Member . For PMI membership it costs US $129, it is always recommended to become a PMI member as you will get lot of benefits becoming a part of PMI chapter. You will be able to download the PMBOK from PMI login & other books for your reference.
Application for PMP certification can be divided in to 4 step process
Create PMI login.
Submit the application with your project experience  & learning information.
Complete the audit process if selected.
Pay for the exam & book your seat.
Create PMI Login:
Go to http://www.pmi.org/ and click on "Login / Register" .
Enter the details , First Name, Last Name, Primary Email Address, Select country, Company name(You can put None if you are not part of any company), Job Title, Year you Born, etc, Select user name, password & set security question and answer.
Click on create account
You will receive a confirmation email for your registration & you can login to the PMI.
Optionally you can purchase PMI membership , which is recommended. The cost of membership is $129 per year.
Submit the Application:
Once you login to PMI , select the application for Project Management Professional.
The application wizard will showup & you need to enter the Project management experience, education & learning details for 35 PDU.
Depending upon your educational qualification you need to showcase the hours 4,500 and 7,500 hours of leading and directing project in order to qualify for the exam. You can provide the details which you have worked splitting the effort spend in each Project management process groups Initiating, Planning, executing, Monitoring & controlling and Closing for each individual project. Overall addition of hours should be come minimum of  4,500 and 7,500 hours as per your qualification criteria.
Enter the details of training's or Web based learning you completed to achieve 35 PDU.
Select the right projects & learning experience in the application as if your application is selected for Audit, you will have to get the signatures from relevant stakeholders to confirm your application.
In any way do not try to enter incorrect information, lies or write things are inaccurate.
Once you submit the application it will take 5-10 days for application review & email will be send to you once approved. If PMI is looking for more information they will contact you asking for more details. Don't get panic, if you have entered the right details you need to get the signatures & proof for respective queries & send to them in hard copy to the address.
Note: Once you start the application submission you have 90 days to complete the application.
Pay for the Exam & schedule your slot:
Once your application is approved, make the payment and move to final stage. The payment is completed, you will be receiving the email with eligibility number which is valid for 1 year. To book the exam schedule through Pro metric center https://www.prometric.com/en-us/clients/pmi/Pages/landing.aspx near your location.
The PMP exam is made out of 200 multiple choice questions & the duration of the test is 4hours, with no scheduled break. Out of 200 questions random 25 question are for statistical sampling only – meaning you do not get any point if you answer them correctly.
Congratulations, you are all set now to take up the exam. You need continuous dedicated effort to learn for PMP certification, there are lot of terminologies, tools, techniques which you need understand & correlate to the question. There are several formulas also need to be kept in mind which can easily get you some confirmed score for those questions.
To get 35 PDU it is recommended to attend any instructor led PMP certification course or Project management training from reputed institutes or there are web based training also available like Simplilearn, Pluralsight, Udemy etc. Make sure the training is covering whole Process groups, Knowledge areas & Processes.