PMI or Project management institute has release PMBOK (Project Management Body of Knowledge) version 6 now & it is collection of best practices or guidelines for project management methodology.
The overall success rate for the Projects are very low as per the analysis. The objective of PMBOK is that it helps the project managers to understand what need to be managed to have successful project. It is not mandatory that a project manager has to follow everything which is defined as per PMBOK, you need to tailor the practices to suit your project or organizational need.

The objective of project management is to plan, organize, execute & control the project to achieve project goals & meet the stakeholders expectations.
Project management involve activities of initiation, planning, execution, monitoring & control & closing. We will see more about Project process groups in upcoming posts.
The PMP trained or certified project manager have more chance of delivering a successful project. PMBOK has clearly explained project management principles & activities that a project manager should focus to meet the project objectives.
The project manager should focus on managing stakeholders, running the project with in constraints, motivate the team to achieve the goals, manage risks appropriately, etc.
The Triple constraints for a Project are Schedule, Scope & Cost. The project manager should achieve the quality product managing the constraints.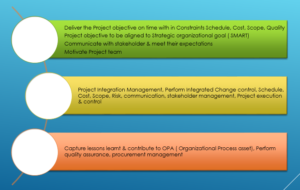 Always a project is started with a business case, the analysis should be done is the project really required or there is a valid business case to have the project running , the objective for the project should be clearly agreed with stakeholders.
The core component of project management are
Business case why a project is necessary
Capturing project requirements, specifying quality of the deliverable, estimating resources and timescales
Developing and implementing a management plan for the project
Leading and motivating the project delivery team
Managing the risks, issues and changes on the project
Monitoring Project progress against plan
Managing the project budget
Maintaining communications with stakeholders and the project organisation
Procurement management
closing the project in a controlled fashion when appropriate.
Fulfillment of project objectives may produce one or more deliverables like
Unique product ( a complete product or enhancement of a existing product or correction of product etc.)

Unique service ( a support function)

Unique result ( new process, documents etc.)

Unique combination of one or more of the above.
Project management goals is to achieve the primary project goals as agreed. Project manager additionally focus on customer satisfaction . The project manager uses project management software like Microsoft Project management professional to schedule the tasks, track the project deliverable & baseline the activities which will be give you the deviations & metrics for the projects. Microsoft project is one of the commonly used project management tool , there are other tools also available which can be used as per your organization or project need.