The Project manager is the person assigned by the organization to lead the team that is responsible for achieving the project objectives.  The project manager responsibilities are to own the project from initiation till closure. The Project manager plays a critical role in leadership of a project team in order to achieve the project goal, he acts like a project leader. The role of a project manager varies from organization or organization, they can tailor according to organization need. Some of the project managers will be involved from initiation till closure, some may be only involved in few phases.
Major Project Manager roles & responsibilities are listed below
Developing the project plans
Managing the project stakeholders
Managing communication
Managing the project team
Managing the project risk
Managing the project schedule
Managing the project budget
Managing the project conflicts
Managing the project delivery
The project manager spends his 90% of time in communication.
Project Manager's Sphere of Influence
Project managers fulfill numerous roles with in their sphere of influence project management , these reflects project mangers capabilities & represent the value, contributions of project management profession.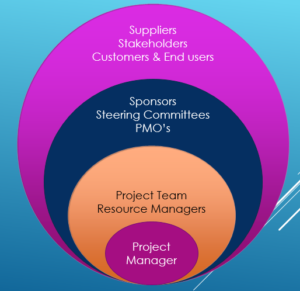 The Project managers uses project managements skills, knowledge, Tools & techniques &  lead the project team to meet project objective &  stakeholders expectations. Refer above figure to understand the project manager sphere of influence.

Project manager perform communication role between the project sponsor, team members, other stakeholders. Project manager uses soft skills & interpersonal skills to manage the conflicting & competing goals of stakeholders & come to a common ground with all stakeholders consensus.
Project Manager Competencies
As per PMI the talent triangle or key kills for Project Manager are below
Technical Project Management - Skills related to specific domains .
Leadership - Guide, direct & motivate team
Strategic & business management - Enhances performance & deliver better business outcome
If you are focusing on project manager careers , focus on learning the skills. you can follow industry standards like PMP or PRINCE2. Project manager jobs are one of highly paid job in industry & if you are certified in PMP certification or PRINCE2 your value also gets increased. For entry level project manager you can do the certification CAPM.