Some of the major IoT platforms  or Internet of things companies are listed below
A fully managed service to easily and securely connect, manage, and ingest data from globally dispersed devices.

Key features:
Secure device connection and management
Zero touch device provisioning to Cloud IoT Core
Establish two-way communication with your devices
Fully managed and scalable
Device deployment at scale

AWS IoT Core is a platform that enables you to connect devices to AWS Services and other devices, secure data and interactions, process and act upon device data, and enable applications to interact with devices even when they are offline
Key features :
AWS IoT Device SDK
Device Gateway
Message Broker
Authentication & Authorization
Registry
Device Shadow
Rule Engine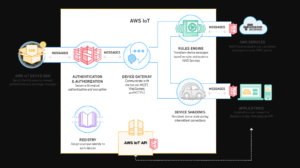 Azure IoT Edge is a fully managed service that delivers cloud intelligence locally by deploying and running artificial intelligence (AI), Azure services, and custom logic directly on cross-platform IoT devices. Run your IoT solution securely and at scale—whether in the cloud or offline.
Key Features
Establish bidirectional communication with billions of IoT devices
Authenticate per device for security-enhanced IoT solutions
Automate IoT device provisioning and registration to accelerate your IoT deployment
Extend the power of the cloud to your edge device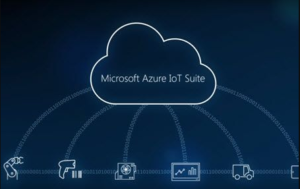 IBM Watson is an IoT platform which is pretty much taken among developers already. Backed by IBM's hybrid cloud PaaS (platform as a service) development platform, the Bluemix, Watson IoT enables developers to easily deploy IoT applications.
Improve IT operations, accelerate innovation and deliver exceptional performance with the power of a data-driven and knowledge-based IT services platform
Key Features:
Device Management
Secure Communications
Real Time Data Exchange
Data Storage
Recently added data sensor and weather data service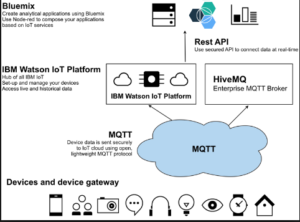 Bosch's IoT platform, the Bosch IoT Suite, provides all key middleware capabilities needed to build sophisticated IoT applications from top to bottom.
Key Features:
Trusted and secure
Open and flexible
Innovative
Ready to use
Device management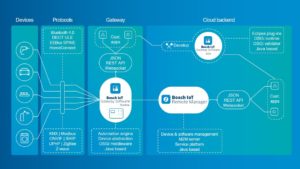 Dell takes a pragmatic approach to the Internet of Things (IoT) by building on the equipment and data you already have, and leveraging your current technology investments, to quickly and securely enable analytics-driven action.
Offerings:
Internet of Things Infrastructure
Internet of Things Analytics
Internet of Things security
Internet of Things industries
Internet of Things Labs
There are lots of new business opportunities in the fire hose of IoT data that's streaming from today's internet-connected products. Yet behind the billions of connected apps, devices, sensors, and sites, there are customers. So make sure you're giving customers the best experience with Salesforce IoT, the only platform designed to put your IoT data where it will do your customers the most good: right inside Salesforce.
Key Features:
Build complete customer device profiles.
Input data from everywhere
Easily create IoT engagement rules with clicks, not code.
Visualise all your IoT devices in one place.
Natively connect to the Customer Success Platform.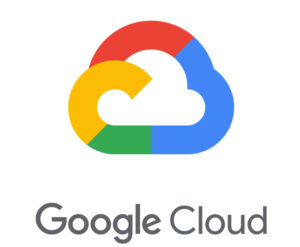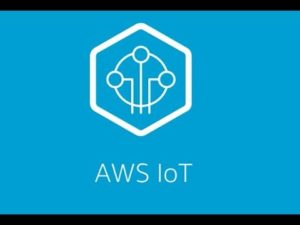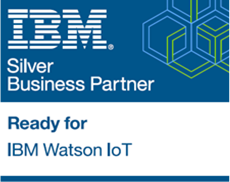 Comparison of Major IoT platforms: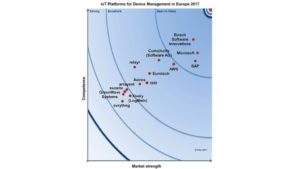 There are free IoT platforms available also like
Thingboard
Blynk
IoT platform remains the heart of the entire IoT ecosystem regardless of the IoT solution that you are planning to adopt.Choosing the right IoT platform is an important decision that you need to make before you start your IoT journey
Some of the deciding factor which you need to look on selecting the IoT platforms are
Scalability : As you move forward in your journey of IoT product, there will be need to add more & more devices, so the IoT platform should be able to support easy scalability to accommodate your requirement.
Customizable : It is very difficult to get all features you need in a single IoT platform. So you have to decide which is best & it should be easy customizable to your requirements. Your vendor is capable of customizing your IoT applications and implementation strategy that fosters your business goals .
Cloud Infrastructure : Rather than going with on premise infrastructure it is always advisable for Private or hybrid IoT cloud. This give easy accessibility & high computing capabilities.
Data Security : This is very important aspect, there is always discussion on how much the data is secured now & when using cloud.
The information on open source IoT platforms comparison is listed here , You need look in to the IoT platform features,IoT platform providers and IoT platforms design methodology to decide which platform is suitable for your project and to have IoT platforms enable for your IoT projects.